If you are in London in Christmas  and want to fill your days with some cute activity, this post is right for you.
Amazingly, all 4 of these arcades are located in Piccadilly/Mayfair. They are a walking distance from each other as well! Grab your coat, scarf and a friends lets go!
Burlington Arcade – A few steps away from the Royal Arcade, Burlington Arcade is one of the best-known London shopping arcades at Christmas and beyond.
True love took on a new meaning when Lord George Cavendish, Earl of Burlington, commissioned Samuel Ware to build Burlington Arcade as a safe place for his wife and other genteel folk to shop – though it was also alleged that the Earl wanted to oust his neighbours who kept throwing discarded oyster shells (London's most popular 'fast food') into his garden.
Burlington Arcade opened in 1819  'for the sale of jewellery and fancy articles of fashionable demand, for the gratification of the public.'
It had 51 independent boutiques across 72 units, selling luxuries like hats, gloves and jewellery – it was notably the place to go for a bonnet. At 196 yards long, the beautiful covered shopping arcade was – and remains – one of the longest in Britain.
Princes Arcade – Right across the street from Piccadilly Arcade, Princes Arcade is perhaps the most hidden of all. Right beside it stood this cute pink building.
About two blocks from it sites the ever stunning Fortum & Mason store (My bonus for this post).
Piccadilly Arcade – Just down the road (same side with Princes Arcade) almost opposite Burlington is Piccadilly Arcade. Its ceilings are gorgeous!! This is another of the prettiest shopping arcades at Christmas.
This complex is stunning outside and inside. The ladies inside are so warm as well. It's a must visit as its right next to Princes Arcade.
Royal Arcade – The most beautiful of them all I would say. Met a fellow London architecture enthusiast as I walked in and we took photos of each other. She literally took about 100 of me. Lol. Entering from old Bon Street, its leads into the Street that house the gorge Browns Hotel. A really pretty arcade this one.
Quadrant Arcade – I did not visit this one because upon research, the photos weren't too cute for my readers. If you've got extra time, don't fill to visit. Address below. Its a Chic retail complex offering upscale shops & dining in a historical arcade structure.
Fortum & Mason – This complex is stunning outside and inside. The ladies inside are so warm as well. It's a must visit as its right next to Princes Arcade.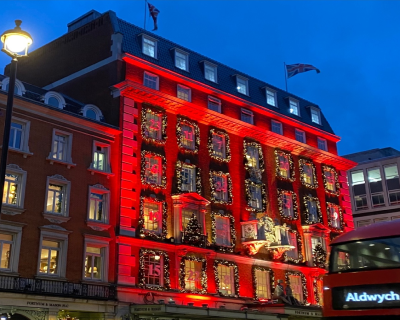 I'd advice you visit at night or late evenings to see its exterior in its full glory. You'd definitely have company. Try to get a shot slanting the phone towards yourself for you get the whole building plus the roads and a London bus in toe.
Thanks for your time, let's catch up on 10 Essential Event Planning Skills.